Knowing the potential of Search Engine Optimization (SEO) might surprise you. Its usefulness is not only limited to increasing the visibility of websites.
It can be used locally in your area. The term for it is "Local SEO".
Combining Local SEO with Google My Business will only skyrocket your growth.
We know both these terms might sound unfamiliar right now.
We'll make matters easy by telling you about both.
What is Local SEO?
Local SEO is a way for businesses in a city to become visible for people residing there. The intention behind this SEO practice is to increase the sales of brick-and-mortar shops.
Some shop owners who haven't implemented Local SEO can highly benefit from it as many people search for a shop's name before deciding if they want to visit it or not.
What is Google My Business (GMB)?
Google My Business (GMB) is an extension of Local SEO as it serves the same purpose. Google is the most popular search engine. Approximately 5.6 billion searches are done on Google in a day. That's why people prefer their business to show up on Google.
See how a business on Google My Business looks like.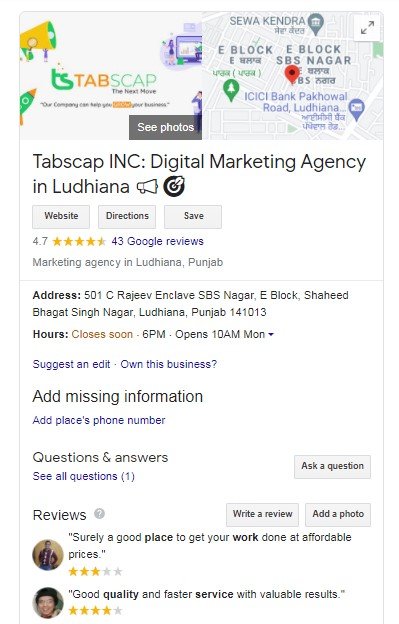 We searched for "Tabscap" here. On the right-hand side, you'll see something similar to the image above. This is your business showing up on Google because of Google My Business (GMB).
Here you can see everything about a business. You can see the timings of a business, their address, reviews, and website & can even visit the place physically by clicking on "Directions". Google recently introduced a new feature where you can check live traffic at a shop and decide whether you want to visit it then or later.
Now you have a basic understanding of Google My Business (GMB) and what all can be done with the tool.
Take a look at the Google My Business (GMB) website.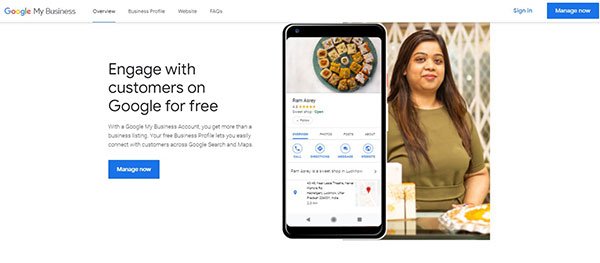 Here you can see two prominent buttons: Sign in & Manage now.
If you've already set up your business on Google My Business (GMB), then click on Sign in.
If it's your first time visiting this page, then click on Manage now.
After this step, you'll have to fill in the details that Google will ask for.
Now it's time to know why Google My Business (GMB) is the best tool for Local SEO.
Local Businesses Will Know That Your Business Exists
We know it can get frustrating when you're doing everything in your power but still not achieving results.
When you're not capitalizing on the local audience, you're missing out on growth.
Some businesses attract local people but don't use Google My Business (GMB). How can they attract an audience without keeping up with the internet?
The reason is simple. They've been serving locals for many years, and their name has spread by word of mouth.
Unlike millennials, the consumers at that time were different.
Consider a scenario where a person from some other state visits your area. They don't know anything about the area. And they suddenly have an urge to drink coffee from a café.
The next obvious thing they would do is search the keyword "Best Coffee Shop Near me".
As soon as they press enter, they'll see several coffee shops in the results.
Out of them all, they would visit one.
Simply being present on Google My Business (GMB) can drive traffic towards your shop.
Also, it's not ongoing work. You have to fill in all the details once, and you're good to go.
Track the Analytics & See How You Can Improve
Analyzing your statistics is vital as it tells how you're performing and the people you're engaging with. Without analyzing, it would become impossible to know where your efforts are going.
Also, based on the analytics, you'll be able to make plans and improve further on the current plans being executed.
See here how analyzing data can help your business grow.
When you log in to your Google My Business (GMB) account, you can see "Your Engagement" & "Your Customers".
This is what "Your Engagement" looks like: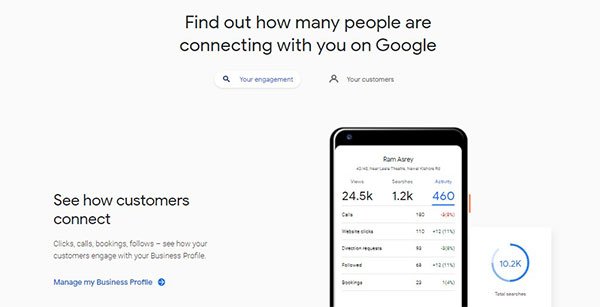 You can see the views, searches, and activity in the Engagement section. Further, you can observe the website clicks, calls, direction requests & some other details.
This is what "Your Customers" looks like: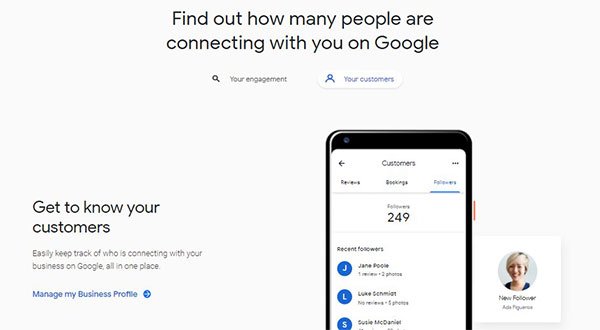 Here you can see the Reviews, Bookings & Followers. When you want to reply to a review, you need to open the "Your Customers" section. After that, it's an easy process because of the simple interface.
It's a Free Tool
A great thing about Google is that they offer most of their tools for free. Similarly, Google My Business (GMB) is also a free tool.
This gives a huge opportunity to people who're just starting.
GMB is a great choice to make yourself appear in the search results. Even if the tool were paid, people would not hesitate to spend money on it because of its versatility.
You Can Post Pictures
Humans may forget a place's name, but they'll never forget how it looked. That's how strong our visual memory is.
So, including pictures of your business can be beneficial and may become the only factor that pulls users towards your business.
Also, Google My Business (GMB) allows users to post pictures. Example- Sam visited your restaurant. He was delighted as soon as he stepped inside. He loved the vibe & the atmosphere. The food he ordered was delicious. Overall, he enjoyed the whole experience. And he took pictures at each step and decided to post them on your restaurant's Google My Business (GMB) page.
The pictures he added have now become a part of your GMB page, and any user who looks at your business will see the images uploaded by Sam.
So, if your service is either good or bad, be assured that people will upload it on your Google My Business (GMB) page.
Reviews Act as a Mirror
Even if you decide to not look at insights, you absolutely have to consider reviews on your Google My Business (GMB) page.
The reason we say that is simple because reviews act as a mirror and show you exactly what you're offering to your customers.
If your services are below average, you'll see negative reviews, and if people are satisfied with your product/service, you'll see appreciation.
Now that you know reviews play a significant role in your Google My Business (GMB) journey, you have to dedicate time to replying to reviews.
Either the work can be done by you or someone else because replying to reviews shows potential customers that you care about your existing customers.
Update the Info Easily
With Google My Business (GMB), updating your information is pretty straightforward. You can change the description, the opening times, update photos, and many other changes.
Keeping your business updated means that you offer the latest information to your customers because outdated information puts off people.
Google has always aimed at being user-friendly. So, navigating through their tools and platforms is easy.
Even a novice business owner can make changes.   
Answer Questions about the Business
Usually, people ask common questions about a business on their Google My Business (GMB) page.
Asking questions means that people who'll discover the page in the future will be able to see them and hopefully get answers to their queries.
It is an excellent way for businesses to answer common questions that they get asked repeatedly.
As a business, when you answer questions, it builds trust among customers, and they're more likely to refer your business to others.
Your Business Present on Maps is Beneficial for Customers
When you make an account on Google My Business (GMB) and set up your account, your business automatically appears on Google Maps. 
And Google Maps is a great application because it allows people to reach a place easily. By clicking on Directions, Maps will decide a path and show you the way to your destination.
This is an excellent feature for people who visit different cities. There is a probability that they won't know the directions to a shop they would like to visit. For them, Directions would be highly beneficial.
Conclusion
Businesses that haven't tapped into the potential of Google My Business (GMB) need to know that it is great for Local SEO. With GMB, not only they'll get more clicks and visibility, but they'll also get more profits because people would visit their place.
The truth is, Google is not only helping people surf better on the internet but also helping businesses to get profits from a simple and effective tool.
So, set up your business on Google My Business (GMB) if you haven't already.