You must have heard several pieces of advice to grow your social media, especially Instagram. But have you ever thought of what should you avoid doing on this platform, what wrong you can be doing?
Well actually, Instagram is such a platform that looks pleasing. Beautiful pictures, stories, IGTV, Reels, Guides and much more. Undoubtedly, the platform is appealing and it always manages to hold the viewer.
Brands like Zomato are using it in several different ways to reach their potential customers as much as they can. However, there are numerous pitfalls you should avoid, especially when it comes to your business profile.
There is no doubt that knowing what to do is only one side of the coin. It is equally important to understand what should not be done and what should be avoided.
In this article, we will share some of the things that you should not do on Instagram for a better and cleaner profile.
Don't use an awkward username
You might have seen numerous people on Instagram with hashtags like @thecoolmartin @thefunkyboymax etc. It is not a good idea to keep your username like this.
It is very important to keep your username as simple and easy as possible. The Instagram search algorithm is not great as that of Google. Therefore, the ones with difficult and awkward usernames are more likely to drown in the searching sea.
Not only for a personal profile, but the same rule applies for the business accounts as well. The name should be easy to remember and easy to search. Also, when it comes to a business, it is important to maintain a bit of formalism and such names look unprofessional.
If you want to grow, don't make a private account
You should definitely keep your Instagram account private if you do not want to reveal your pictures and posts to unknown people. It is one's personal choice. However, if a person wants to grow the Instagram profile, it is important to make it a public account.
There are several cons of keeping your Instagram account private. Many people who have private accounts use hashtags on their posts.
Bad news for them!
Hashtags literally don't work on private accounts. Your post won't reach a single person outside your followers list.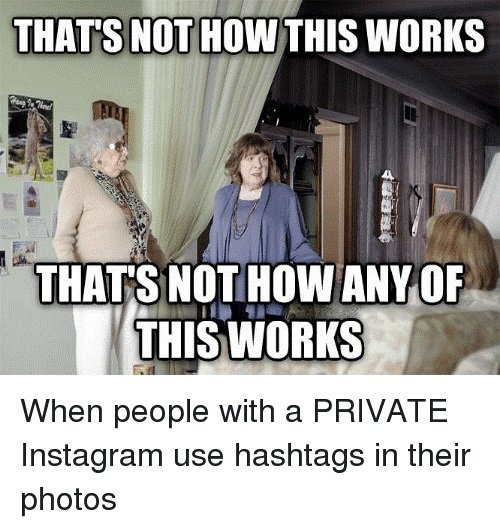 Most of the time, the major motive of brands on Instagram is to be visible to more and more people, make your posts reach the potential customers that "don't follow you".
But this is not possible if your account is private on Instagram. If you really want to grow on Instagram, do not make your account private.
Tagging celebrities won't really help much
Tagging different celebrities with millions of followers on Instagram won't really help you unless they see your post and reshare them on their wall. Well, the probability of that happening is very less.
You might think that your post will be visible in the "tagged" section of the celebs' walls. Yes, that is true. But how many people do you think, open up a celeb's profile to see the tagged posts? Not many! How many times you have visited a celebrity's Instagram profile to see the tagged posts?
I don't completely condemn tagging celebrities. You can tag them if the post is related to them. Who knows when your luck works and your post gets the recognition it needs. However, you should not overdo it as your followers will notice it easily. A negative impression of your brand will be possessed.
Don't buy likes and followers
"Quality is more important than quantity". Always keep this thing in mind. The huge numbers might look good on your profile but the value of real followers is much more than that of the fake ones.
Also, buying fake followers can damage your brand's credibility and reputation. Nowadays, the public is very smart. Thanks to the easy access to the internet. Anyone can quickly judge if the followers are real or fake. Also, spammy comments look very shabby on Instagram posts.
Other than this, buying Instagram followers and likes is not at all a long-term solution. It may give a sudden boost to your business but the life span is short.
Posting is not the only task
Many people should understand it. Posting good content is not the only task when it comes to Instagram. If you are receiving any queries, you should revert to them immediately. Engaging with your audience is a very important aspect that many people and businesses ignore.
There are several features of Instagram through which you can interact with your audience in unique ways. Some of the examples are-
Instagram Q&A
Stories
Instagram Live
Polls
Quizzes
DMs and comment section has been there for a very long time.
Using all the features on Instagram makes your profile content-rich. Your profile looks beautiful. However, systematically using them is very important. For that, you should try and make a content calendar for your Instagram profile. Pre-decide your posting schedule. It will help you keep everything organized.
Do not use photos from Google
The best option is to add real pictures on your Instagram profile. If you use stock pictures, your profile will loook very generic and boring. We understand that stock photos are easy to find and reduces a lot of work. But adding a natural and unique element to your posts is very important. This is how you differentiate your profile from others. There are millions of content creators and businesses on Instagram. Therefore, it has become a need of the hour to be different and uncommon.
No one watches a bundle of stories
Unless you have die-hard fans, the chances are mere that your followers will see all the 50 stories you have posted. People really do not care that much. They want something quick. They do not spend much time on a particular post, or a story. Adding 3 to 4 stories in a day is enough. Multiple stories will surely annoy your followers and make them disinterested to see your content.
Follow-unfollow technique is outdated
As mentioned earlier, the audience on Instagram is very intelligent now. The follow-unfollow technique does not work very well nowadays. For those who still don't know about it- It is a technique where multiple accounts are followed, hoping that some out of them will follow back. Then gradually, those accounts are unfollowed. Well, we have heard that expectations hurt!
Don't expect people to follow you back just because you have followed them. There are people, even businesses who repeatedly follow and then unfollow the same accounts. If you also do this, unfortunately, you won't be remembered for your content but for being annoying. So, please avoid this.
Your links in the captions are useless
Though Instagram is owned by Facebook, both platforms are different. The link you add to your captions is not clickable. It is just a piece of text that has no meaning. In short, it is useless.
If you really want to direct your followers to a particular webpage, add the link in your bio. Else if you have more than 10,000 followers on Instagram, you get the feature to your link in a swipe up story.
If you want to add multiple links, making a Linktree is the best option for you.
You can also add clickable links in the descriptions of your IGTV videos.
Do not auto-share every Instagram post on Twitter and Facebook
Auto-sharing Instagram posts on Facebook and Twitter is very common. Also, it is a great idea to improve the reach of the posts by cross-posting on different platforms. But we should always remember that the format of Facebook, Instagram and Twitter is different.
On Twitter, you have limited characters. On Facebook, you can directly add a link to the posts which you cannot do on Instagram. All these differences can actually lead to several formatting errors if you auto-share all the posts.
Your "Link in bio" in the captions will not look good on Facebook. Also, the character limit on Twitter will cut down your lengthy captions. Therefore, the better option is to post separately on different platforms after proper formatting.