Guest Posting or Guest Blogging is when you write blog posts for a website other than yours. The reason for which people guest post can vary. For some, it is simply to share information. While for others, the purpose is to get backlinks to their websites.
Guest Blogging as a concept started to share information and not for self-promotion. But as with most things, people find ways to use them to their advantage. However, talking about the morality of Guest Blogging is a whole different topic.
In this blog, we'll be talking about 10 famous websites where you can post content as a guest (Guest Blogging). Further, we'll go into the nitty-gritty of how exactly you can approach these websites.
So, by the end of this blog, you'll have complete knowledge about the steps you'll need to take for guest posting on famous websites. 
Without further delay, let's begin:
1. Medium
The first website on the list is Medium. Most of you may be familiar with Medium. Some of you may have read blogs on this platform. We say that because Medium is one of the most famous blogging websites.
Medium attracts the best of writers. Two years back, the website drew between 85 and 100 million users in a month. Because of that, when your blog is live on this website, you can be assured that a large population will see it.
Moreover, it's a free platform.
Seems like the perfect platform to get your writing seen?
Here's how you can start writing.
Open Medium. You'll see this page.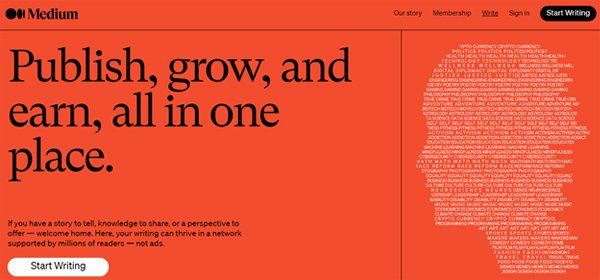 Click on Start Writing. You'll be asked to sign-in on the platform.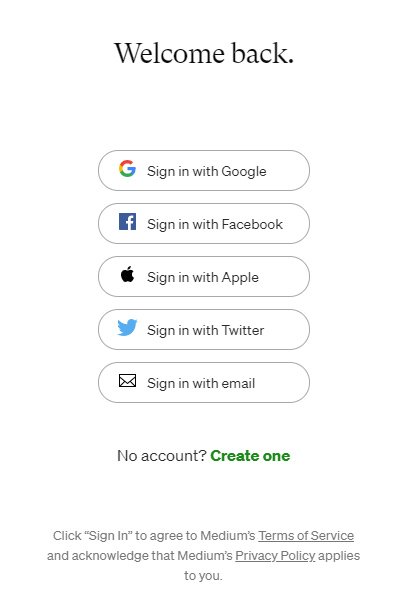 After Sign-in, you'll be taken to the page where you'll do all your writing. Here, you have to give a title and then write the story. After it's done, click on Publish.
Your blog is live now.
2. TechCrunch
TechCrunch is another famous and trusted website for tech-related articles. You can find tech news, tips & tricks & everything else related to tech. It is an excellent platform for people who want to dive deep into everything tech-related.
For writing a Guest Post on TechCrunch, visit this link.
You'll see this page when you visit the above link.
As you can see, writing directly on TechCrunch is not an option.
You have to write the article's subject & the tip. If the team at TechCrunch feels you can write great content, they'll contact you. 
3. Entrepreneur
If you feel you can write great content on business-related topics or help business owners make wise decisions for growth, writing on Entrepreneur is a great option.
Remember, your writing needs to be top-notch because it is a trusted website with millions of visitors every month. You can't afford to write misleading information and at no cost make grammatical mistakes.
So, we advise if you have confidence & skills in writing, only then think about writing on this platform.
Entrepreneur Leadership Network Writer Guidelines
tells in great detail what to know before writing and the mistakes you absolutely have to avoid.
This is how the page looks like: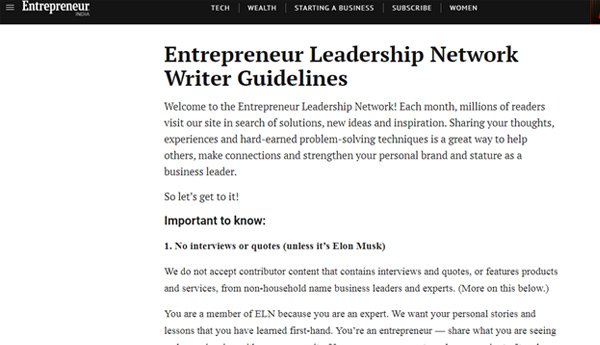 On this page, you can find another link for the style guide that you need to follow while writing for Entrepreneur.
This is how the style guide page looks like: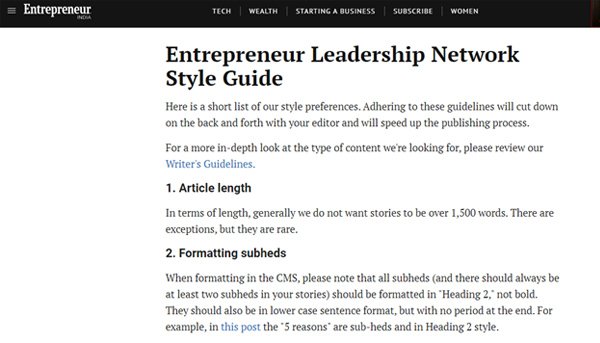 You can clearly see they want the posts to be more than 1,500 words. Read more about the style guide here.
4. Social Media Examiner
Social Media Examiner focuses on helping small and medium-sized businesses to use Social Media platforms efficiently for growth. They also publish blogs about valuable tools that can make such companies reach their goals faster.
Currently, they want long-form guest posts.
Read this page to know what they want & don't want in the guest posts.
At the bottom of this page, you can apply by filling a form.
This is how the form looks like: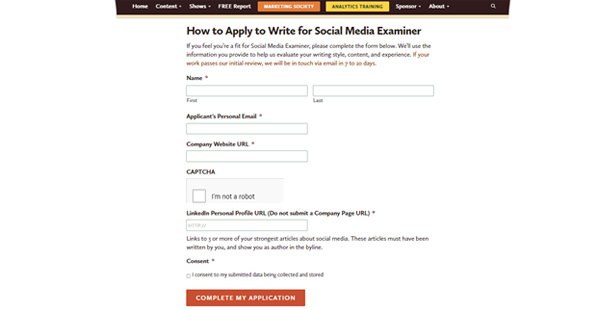 You have to be patient when you want your guest post to get approved by Social Media Examiner because they want only the best and will take around 7 to 10 days for getting back to you.
5. Copyblogger
We've covered in-depth the use and benefits of an effective Content Marketing strategy to skyrocket your brand's growth.
Copyblogger is a great platform that covers everything about Content Marketing. So, if you feel you can add value and write exceptional guest posts for them, read about their guide for guest posts.
At the bottom of the page, you can see a link to the contact form.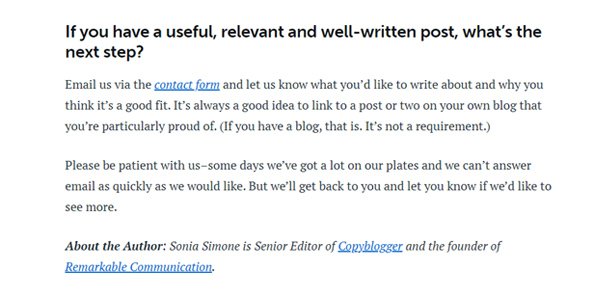 6. Inc.
Inc. is a website that helps small businesses and startups by telling them practical tips and ideas that contribute to their growth. You can see interviews of well-established business owners and read the latest news about different business practices.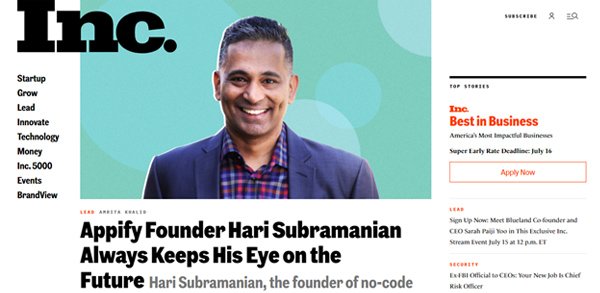 To write for them:
First, open the website.
Then open Contact Us. You'll see this page. Here you'll find the email address where you can mail the story idea.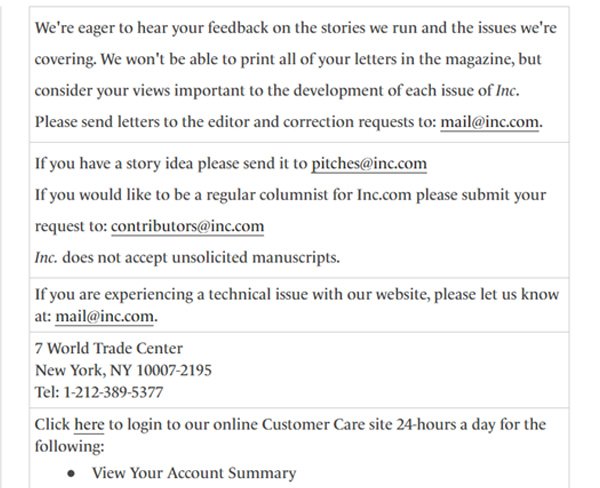 7. Fast Company
If you can write about productivity, career, innovation & leadership, then Fast Company is a great option for you. Fast Company is a well-known platform & attracts a large number of readers because their writing style is relaxed & friendly.
Writing for them can be fun if you can write in a friendly tone. Fast Company prefers to have a mix of the latest news and lively feel in their writing.
If you tick all the marks, you can open this link and read all details about being a Guest Writer.
If they accept to publish your work, they may make changes in:
8. Search Engine Journal
Search Engine Journal (SEJ) is a website dedicated to SEO and the recent trends in it. If you're a Digital Marketer and lack resources that go in-depth into topics, you need to take a look at this website. All the latest news & best practices for improving your website's visibility can be found on this website.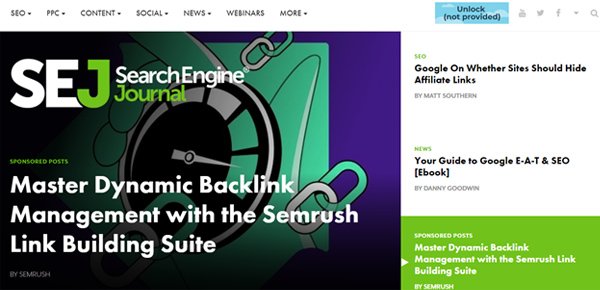 Becoming a contributor on this website is not as easy. You have to be invited by the Editorial team at Search Engine Journal (SEJ). For that, you have to be an exceptional writer and know your way with words.
They prefer their posts between 1,500 to 2,000 words with relevant images and proper use of headlines.
They have gone into detail about the requirements for their posts. Here you can take a look at their Guidelines for writers
9. CoinDesk
CoinDesk is a website that publishes the latest news articles related to cryptocurrency. They publish everything from the latest developments to decisions of governments around the world for cryptocurrency. It is easily the best website where you can find everything related to cryptocurrency.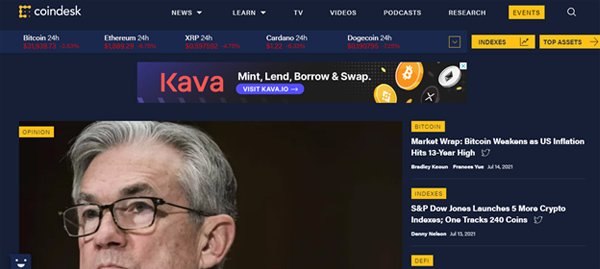 Do you have what it takes to become a competitive writer at one of the biggest platforms for cryptocurrency? If you do, you can open their Contributors page. On this page, you'll see an email where you can pitch the news stories.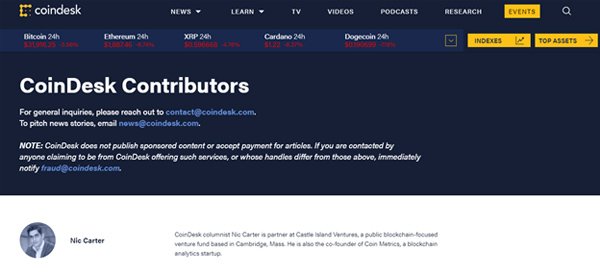 10. The Huffington Post
The Huffington Post is a leading website for the latest news, technology, trending topics, entertainment, and other categories. Experts from around the world prefer reading articles from this website because of their trust over the years.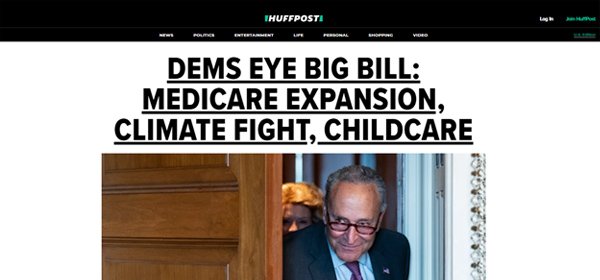 They accept expert writers in all the niches present on their website. If you want to pitch to Huffington Post, you need to fill this form.
As you can see in the above image, you have to fill in the details of the post. At the bottom of the form, you'll be asked to select a category for the post type.
Conclusion
We hope now you understand how you can approach these 10 famous websites for guest posting. Remember, these are highly trusted websites, and they won't accept low-quality writing.
You might be wondering what if I want to guest post on some other websites. You don't have to worry about it because the process is almost the same for most websites. If you have basic search skills, you can easily find the guidelines for guest posting on most websites.