Facebook is one of the most used social media platforms in the world, no matter you like it or not. With over 2.5 billion users in the world, it is the largest platform. Undoubtedly, there are numerous marketing features that Facebook offers to businesses. That is the reason Facebook has over 200 million small businesses around the world using its tools.
Now you can imagine how important Facebook is for businesses. Most small businesses use Facebook groups to amplify information related to their business. According to Hootsuite, 1.8 billion people use Facebook groups. Now, you can have an idea of how important it is to join Facebook groups and have one of your brands.
However, before diving deep into Facebook group marketing, we need to understand these groups in and out. After that, we can discuss how they can be beneficial for businesses regardless of their size.
Confused between a Facebook page and a Facebook Group?
It has been 17 years since Facebook's inception and around 11 years since Groups were added to Facebook. But still, a lot of people get confused between Facebook Pages and Facebook Groups.
When it comes to a Facebook business page, it acts as the identity of the business. It is like your business's own profile. You can share information about your business, brand, offers, etc with the rest of the Facebook users. You can go Live, share videos, just like you do for your own personal profile.
Your posts are public. They are visible to the people who do not even follow you (if they search for your profile). Also, the rights to post content on your page lie with a few people only. That can be decided by the owner or the admin of the page.
Other than this, you can check your page's insights, add call-to-action buttons, and see audience analytics. Also, you can like and comment on a Facebook Page, the way you do with your personal profile.
However, the Facebook Groups are different. It is like having a community where everyone can post but after the approval from the group admins (not every time!). A Facebook Group is a place for discussion, helping each other, finding leads, finding solutions to common issues.
There are a lot of Facebook Groups that are region-based and they add most of their audience from that region only. Also, some are related to a particular profession only. These Facebook Groups are made to help each other. Some Facebook Groups' major motive is to promote businesses only. They have a high audience count that helps different businesses.
Different types of Facebook Groups
If we classify Facebook Groups based on their privacy, they are of three types.
Public
There is no barrier and anyone can join the group. Anyone can see what you post or share in the group. Other than this, anyone can see the list of members, moderators and admins.
In such groups, content can flow anyway. All the members are allowed to post anything. Of course, there are moderators and admins to keep a check on the content, but things can go out of control with only a few irresponsible group members.
Remember! If the group is by the name of your business and anything goes wrong in the group, then your business' image is at stake. So, always be careful.
Private and Visible
There is a reason why these are called Private and Visible Facebook Groups. Such groups are not open for all the users but are visible in the Facebook searches. If you want to join such groups, you have to send a request to the admin.
One can always see who are the admins of these groups but the content is only visible to the group members. This group type is the best if you have a strong fanbase on the internet. You can only add the people you feel will not post anything irrelevant. When it comes to businesses, these groups are great. The members can see all the posts and things are under control as well.
Private and Hidden
These are also known as the Secret Facebook Groups. They have almost the same setting as that of the Private and Visible. But, the difference is that these groups are not visible in the searches.
It is like you've got to be personally invited to join this group as these groups do not even appear in the searches.
Facebook groups can also be differentiated on the purpose and the motive they have been made for. As mentioned earlier, some Facebook Groups are completely meant for marketing and promotions. However, some groups do not allow any kind of marketing at all. Also, most of the Facebook Groups are related to a particular profession only. So, when it comes to marketing through Facebook Groups, you should focus on finding the groups that match your business' niche.
There, you can share valuable information about your company, the products, services, exclusive offers and other important information you want to share. Undoubtedly, Facebook Groups are a storehouse of business leads if used in the right way.
There are several other reasons why Facebook Group Marketing matters so much.
You can directly conversate with your potential customers
Facebook Groups is a place where you are in direct line with your customers. Many times, the group members have queries about the product and services you post in the groups. Either you can directly reply as a business or business representative.
According to Sprout Social, nearly half of the consumers join private communities to be directly in contact with the brands. The major reason why people join Facebook Groups of brands is because they find value in them. They really want to be a part of the community, have a chat with the brand representatives and also, want to be the voice of the brand; they want to be the endorsers. It does help in making a strong fanbase that improves the credibility of the brand.
Handling queries directly in the groups also helps in improving the credibility of the brand. However, sometimes, you have to face criticism as well due to several factors. In general groups, some members really do not like watching promotional content. Therefore, they criticize the brand for that. It all comes to you how you handle the criticism constructively for your company's benefit.
That is when the need for valuable content arises. As a brand, one should focus on making the content that provides value to the customers, the content that they like, the content that they want.
Did you know: Facebook reaches 59% of the world's social networking population.
Facebook Groups initiate discussions
A Facebook Group can be a great place for market research if we use it wisely. It is a great place to start a discussion. You can surely discuss your product, brand, service etc. Or you can even discuss a brand's niche in general.
This will surely help you understand the key features of your brand, product or service and will also help you understand the weak points. Consider it as a market survey where you have to get answers to the important questions that can help you grow your brand.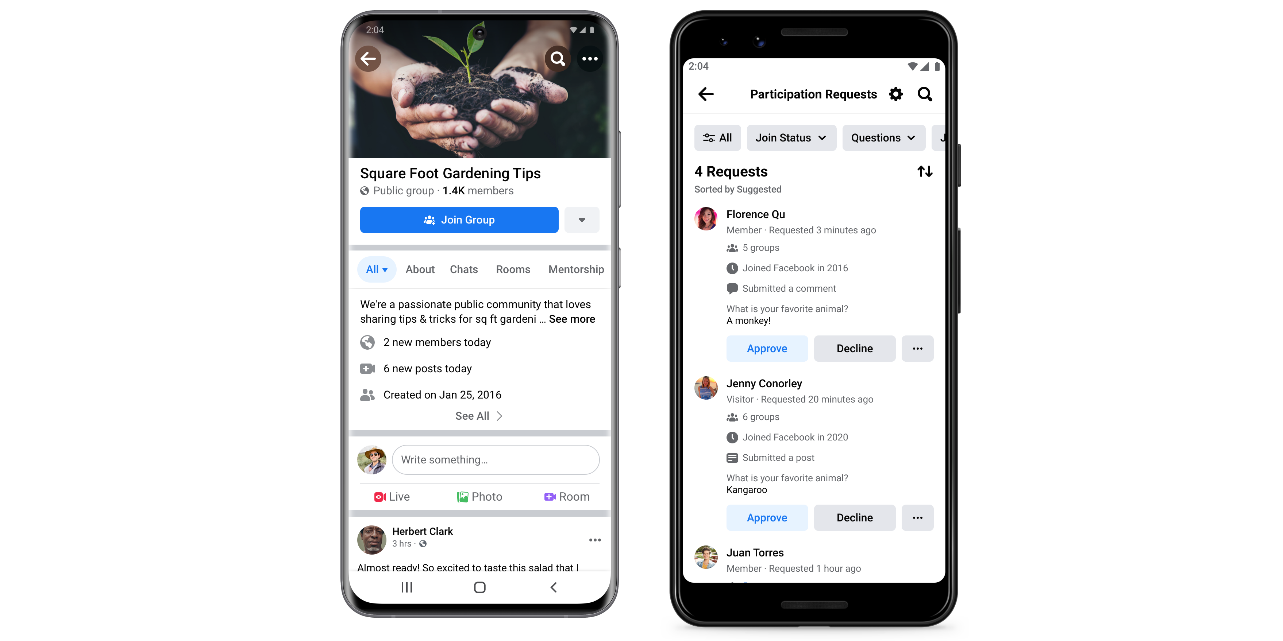 Remember that a Facebook Group is a crowd where you can find thousands of potential customers. In group discussions, you can even find the people who are uninterested in your brand and the reasons behind that.
Keep in mind that you initiate discussions when the group members are most active. Because that will surely help you get better results.
Facebook Groups help improve the organic reach of your posts
Sharing your brand's social media posts to relevant groups automatically increases the organic reach. It is one of the safest and effective methods to improve a brand's reach on Facebook. Undoubtedly, if you share the posts from your official page to different Facebook Groups, then surely, the people who do not even follow your page will react to it. Therefore, there are higher chances that you engage more and more potential customers and convert them into loyal ones.
The best thing is that you don't have to spend money on Facebook ads to make your post visible to multiple people if you share it in several Facebook groups. Also, the Facebook algorithm works in such a way that the posts with more comments and interactions grow more. This happens in the Facebook groups as well. Though the Groups show posts in chronological order, the posts with more comments and interactions climb up.
Therefore, the best practice can be to ask several questions in the posts you share in several groups. As mentioned above, you can ask several questions related to your brand, its niche and conduct market research.
Did you know: People spend an average of 38 minutes per day on Facebook.
Facebook Groups helps you build community
Apart from the sales, for a company, it is important to build a strong community of like-minded people. A Facebook Group is a great place to gather all these like-minded people. When it comes to a brand's community, the first and foremost factor is how powerful your product/service is.
Follow these tips to grow your brand using Facebook Groups
Post regularly
Whether it is your brand's Facebook group or you have joined other groups, consistency is the key. You have to be consistent with the sharing part. Even if you do not have any post to share someday, start a discussion that can be helpful to you, your brand. If you will be active in the groups, people will recognize you and your brand.
Use your brand's group and page differently
If your target is improving the organic reach of your Facebook page, then the method, as mentioned above, is to share the posts in other Facebook Groups. However, when it comes to building a community, you should avoid cross-posting and create unique content for both your Facebook page and the Facebook Group. If you have limited members in the group, they should get some privileges. You can offer some special discount offers to these special group members. This is how you do business and build a strong relationship with the customers.
Be a listener as well
Groups are for discussions and discussions are never one way. Therefore, there's no benefit if you just keep on saying and don't listen. Encourage discussions in the Facebook Groups and be a part of it. However, if you are the admin, it becomes your duty that nothing goes in these discussions.
Say no to link-dropping and direct selling
People join Facebook Groups to get something valuable. However, people fail to understand this and fill the Groups with spammy and promotional links. Keep in mind that you should post to provide value to the group members. For that, you should work upon your page's posts, website blogs etc.
When you promote your product, service or brand in some other groups, explain why you are promoting it and what value it holds for the customers.