If you want to make your local business rank higher in the SERPs, then this article can help you. Here, you will get a complete idea of local SEO, its importance and also, some vital tips to improve your business' online presence.
As you are here, you might already understand the importance of local SEO.
Let us first quickly understand what local SEO is.
Basically, local SEO means optimizing a website to improve its visibility online whenever a local search related to the website's niche is made.
If you are new in Vegas, you will search "hotels in Vegas". The owners of different hotels in Vegas would want their hotels to be visible on the top of the result pages. This is where the local SEO works.
Local SEO includes several aspects to be focused on. Some important aspects involve
Finding local keywords related to your brand's niche
Optimizing Google My Business account
The local SEO is very important. You might be serving the best food in your area. But if you do not focus on local SEO, chances are high that the people in proximity are ordering food from your competitor.
As online media is advancing every day, the need of shifting the businesses online is increasing. Appearing in the top SERPs has become important, especially for the local businesses as 46 percent of the total Google searches look for local information.
Let us look on to some more stats that explain the importance of local SEO for a business.
Such is the power of local SEO. If you are still ignoring it, then you must focus on it and improve your local business's online presence. Local SEO helps your business stand out in the crowd of your competitors.
Focusing on local SEO can help your business reach the Google "Three-Pack". In simple words, "Three-Pack" consists of the top three results of the local search. Earlier, there used to be 7 results in the pack. But these were reduced to three.
This is where your business should be. The Google Three-pack! Optimizing your business for local SEO can help you reach the Google three-pack.
Make a Google My Business Account
The first and foremost step is to make a Google My Business account. We know that Google is not the only search engine used by people across the world. But 80% of all the searches happen on Google. Google dominates all the other search engines and will continue to do the same.
Therefore, it is very essential to have a Google My Business account to be a part of the online race.
Here, you can make your Google My Business account.
Here are some of the steps to set up your Google My Business account.
Make sure to allow Google to publicly show your company's details.
Add the primary and secondary business categories.
Set a geographical radius in which your business serves.
Writing a business description is very important.
Upload the pictures of products. Visual content adds more life.
Verify that you are the owner of the Google My Business account.
Just make sure that you do not leave any section empty. The more details you provide of your business, the higher it will appear in the local searches. Undoubtedly, Google My Business is one of the easiest tools to make your business appear online.
A lot of information about your business can be shared through the Google My Business account. You can add your contact details, website, address, services, product descriptions with your account. You can also share the working hours of your company.
The audience can add reviews about your business publicly. Also, many insights provided within the tool will help you check the performance of your business.
Without a Google My Business account, you business cannot be visible on the side of the SERPs. So, it is an essential step to improve the local SEO of your business.
Research your keywords and optimize your website
Your website is the heart of your business's online presence. Therefore, it should be optimized for local searches. A complete website audit is necessary to improve local SEO.
However, keyword research should be the first step to optimize your business website for local searches. Keeping in mind the niche of your business, you should brainstorm the keywords.
Mostly, the keywords are related to the services and the products a business offer, along with the location. For example, if you have a salon, the keywords will be hairdressers near me, hair stylists in California, best hairdressers in Sydney, hair salon near me, spa in Texas etc.
Such keywords are called "SiLs". It stands for "Service in Location" keywords. Your business's services and the location need to be mentioned.
You should write the content on your website keeping in mind these keywords. Surely, these will improve the local SEO of your business.
For keyword research, you can use Ahrefs keyword generator tool.
Your blog section can help you improve your business. However, this is possible only if you use it properly. You cannot keep on adding random content to your website. A blog is an organized section where you can add the keywords related to your business. Not only for local SEO, but blogs are a storehouse of information about your brand and its niche.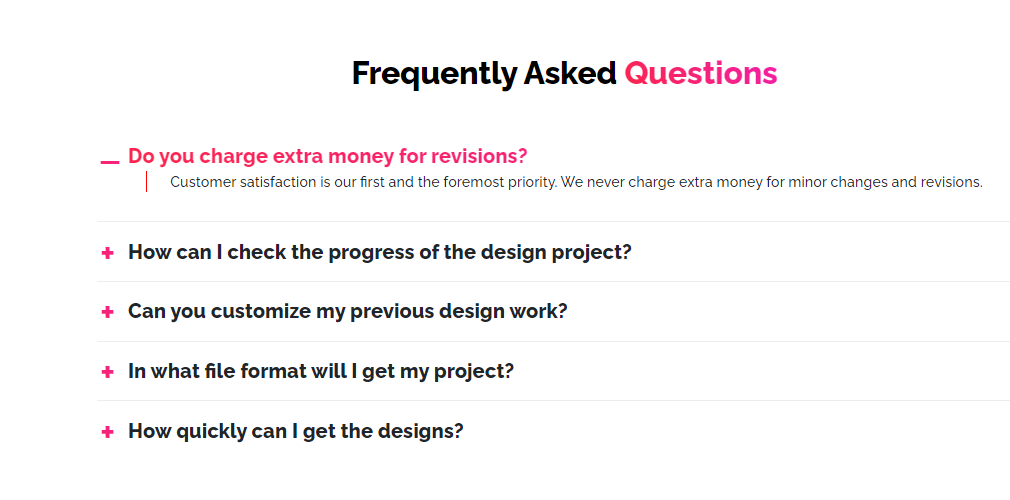 Focus on the FAQs
Many ask several questions to Google directly. They do not use any keywords but simply ask How, Where, Why, etc.
For example- "How to make a solar cooker?", "What is the right time to post pictures on Instagram?", "Why is earth round?" etc. People ask several questions on Google.
Therefore, it is important to give valuable and informative responses to the audience's questions. Firstly, to solve their issue, and secondly, to rank higher in the SERPs.
Add map on your website
Adding a map to your website is very important. The whole point of local SEO is to make it easier for the public to visit your business. Therefore, adding a map to the website can do wonders. You should keep in mind that 86% of people look for a business location on Google Maps. A thorough audit of your business website is important to find the shortcomings that affect the local SEO factors.
These include:
Error pages
Broken links
Duplicate content
Poor accessibility
Missing metadata
No alt text in images
Finding such shortcomings and eradicating them is a part of local SEO.
Read what else you can do on your website for local SEO
A separate contact page is very important
Make call-to-action buttons
Include all the addresses of your business
You must have a mobile responsive website
Make contact numbers clickable on mobile phones
Testimonials improve credibility
For any business, testimonials are very important. Undoubtedly, the testimonials improve the credibility of your business. A person endorsing your product improves the chances of further sales. That is why it is important to add testimonials to your website.
The visitors to your website won't only look for the information, but they will also check if it is genuine or fake. Therefore, never make the mistake of adding fake testimonials. You should be transparent and real to your potential customers. That is how you win trust. Also, being integral is very important. All of this plays a major role in the reputation management of your business.
Just like testimonials, reviews are also very important. Always ask your customers to add reviews to different profiles you have. Also, responding to the reviews and the suggestions of your customers is very important.
Be it Google My Business, your social media handles, or your website. Google always tracks the ratings and reviews of different businesses. Great reviews can help you rank better in local searches.
However, this does not mean that more number of good reviews and ratings leads to better rankings. Google keeps strict checks and finds out the fake reviews. To keep a balance, Google also keeps a check on those who intentionally try to malign the image of the businesses on the internet.
Get social as much as you can
Social media can be a game-changer for your business. It has become the need of the hour to be present on various social media platforms. Many businesses remain ignorant towards digital marketing and socializing online. So, they fail to understand the power and potential of social media.
Facebook has around 2.7 billion monthly active users. Instagram has over 2 billion users. Millions of people use Twitter, Snapchat and LinkedIn. These platforms have such a strong audience. As a company, if you have no social media presence, then you are losing a lot.
Social media is a place where you can find a lot of potential customers. Not only on search engines, but your regular customers will surely look for you on different social media platforms.
Whether you want to target a local audience or want your business to expand globally, a strong social media presence is a necessity. A well-planned digital marketing strategy is required for a business to get a strong social media presence.
Get listed in local business directories
Not only on social media platforms, but your business should be visible on some other authority websites as well. These websites are called business directories.
For those who don't know, a business directory is an online list of businesses of a specific niche in an area.
When it comes to local SEO and local searches, business directories play an important role in finding a company. In the local searches, the Google three-pack is often followed by these business directories.
Here is a list of some popular and free business directories
Always keep in mind that your business's NAP information (Name, Address, Phone number) on different social media platforms and business directories must be the same. Do not broadcast conflicting information. It will reduce credibility and confuse potential customers.
Focus on link-building
Link building is one of the most important factors for both general and local SEO. However, getting quality backlinks and referral traffic is a tough task as it requires a lot of time and patience.
When it comes to local SEO, creating high-quality, informative content targeting local keywords is important. Getting that content linked to high authority local domains is more important. You won't see the results in a day or two. But surely, link building will help your website and your business in the longer run.
There are several methods to build backlinks to your website and improving local SEO
Finding broken links of authority domains and providing them a link to your website
Writing guest posts for authority domains
Promoting your content on different platforms
Writing testimonials
Getting help from local influencers
Conclusion
It is very difficult for small businesses to rank on the top of the search pages. However, local SEO can become a game-changer if used properly. Your business might be lost in the crowd, but local SEO will help you grab the attention of the audience in your proximity. You will start seeing positive results when the audience will talk about your business online. And that will happen when you will focus on local SEO for your business.