YouTube has over 2 billion users worldwide as of 2021. It is the second-most popular social media platform after Facebook and undoubtedly, the most popular video-sharing platform in the world.
Millions of content creators make informative content on YouTube thus making it work as a search engine. Specifically, a search engine for videos.
Most of the time, people relate SEO with Google only. But we must understand that there are other search engines as well (for eg. Bing, Yahoo).
Many don't consider YouTube as a search engine, but the number of "How-to" searches on the video-sharing platform always remains high. Not only for a particular region but worldwide.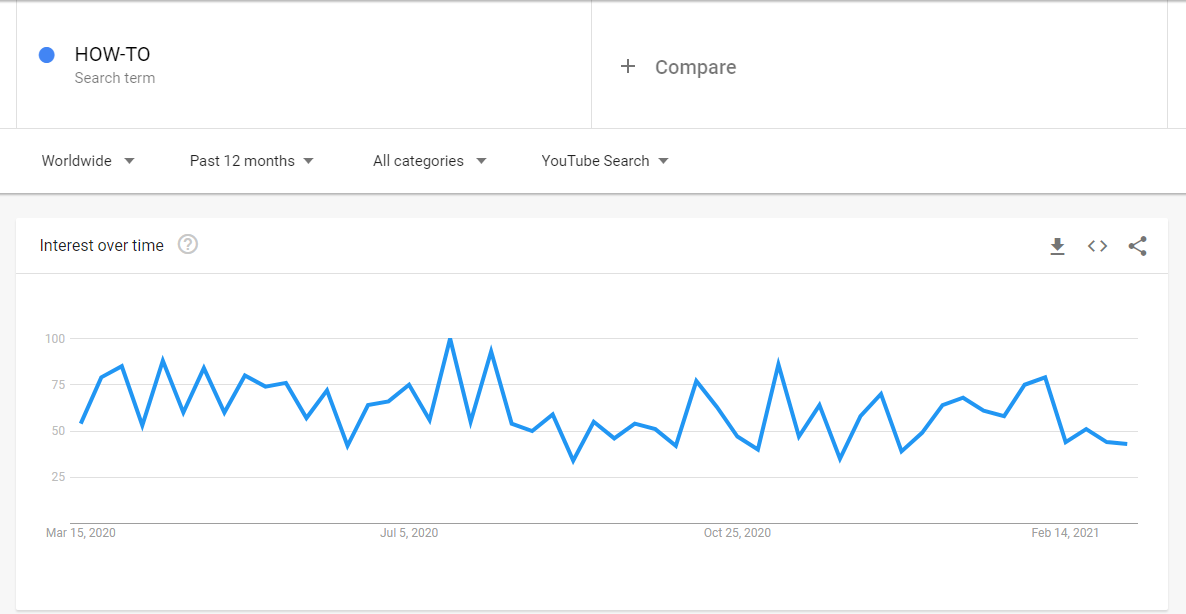 This proves that people use YouTube to find answers to their questions. People consider it a storehouse of information and learning.
Since people use this platform as a search engine, YouTube SEO plays an important role. As we say that only informative content is not enough to rank your website on search engines, the same goes for your YouTube channel as well.
This is what YouTube tells about its searching algorithm.
Like Google's search engine, search on YouTube strives to showcase the most relevant results according to keyword queries. Videos are ranked based on a variety of factors including how well the title, description, and video content match the viewer's query. Beyond that, we look at which videos have driven the most engagement for a query. Search results are not a list of the most-viewed videos for a given query.
Certain aspects impact the rankings of YouTube. In this guide, you will get to know about these aspects and what you can do to slowly and gradually grow your YouTube channel.
The more a viewer watches your videos, the more it spends time on your channel. Your watch hours increase, more ads are visible and then more revenue is generated through your channel.
This is the basic and simple concept.
For this purpose, you need to make content that can hold the audience till the end of your video. Here, everything depends upon the content you make.
However, you also want your video to show up on the top when someone searches for a relevant keyword. This is where YouTube SEO works.
Choose a niche
Posting random content on your YouTube channel won't work. It is very important to choose a niche. If you want to educate people, then make videos about the subject of your expertise.
It is important to understand your forte and your audience. You should figure out the purpose and intent of your videos for YouTube. Then only, you will be able to make a strategy for YouTube SEO.
Finding a niche can be difficult sometimes. There are some major reasons behind it.
The type of content we consume on YouTube influences us. Also, we never watch a similar type of content. Therefore, we get influenced by different niches and then try to make the same on our own.
While choosing the niche for YouTube, one should either go for expertise or passion.
Look for the topics that genuinely fascinate you, excites you. If you don't enjoy creating video content, it will be highly difficult for you to continue as consistency is very important for YouTube.
Therefore, choose the niche that you love.
Research your keywords
Just like SEO for Google, Bing or Yahoo, keyword research is very important for YouTube also. You need to target the keywords according to your niche.
There's no benefit in targetting the audience disinterested in your content.
You can use several tools to research the keywords according to your niche. One of them is Ubersuggest. Even a free chrome extension can do wonders for beginners.
This tool works great for Google. But for Youtube also, this works pretty fine. You can use this tool for finding the keywords related to your YouTube channel.
Whenever you search for something in the search bar with a relevant keyword, this tool tells you about the monthly searches and the CPC of that keyword.
Other than this, you get a list of the related keywords according to different geographical locations.
Other than Ubersuggest, you can also use Keywords Everywhere to research and analyze different keywords.
Also, the keywords suggested by YouTube itself are great. Just type in a certain word or phrase in the search bar and YouTube will automatically show you the related keywords.
These are useful because people actually use these keywords for searching content. Now, you might be thinking about placing your keywords.
In a website, it is easy to place the keywords as you can put content wherever you want to. But when it comes to YouTube, you have limited sections that can be used to optimize the video.
Optimize video titles, tags, descriptions
Some of the sections where we can place the keywords include video titles, video descriptions, video tags. Optimizing these three sections is very important.
Always treat the video title as the headline of a blog that you write for a website. If you know how to optimize the title of a blog, then it won't be difficult for you.
Always add your focus keyword in the video title. For example- If your video is about the right technique to do a push-up, the title can be "How to do a perfect push-up" or "Know the right way to do a push-up".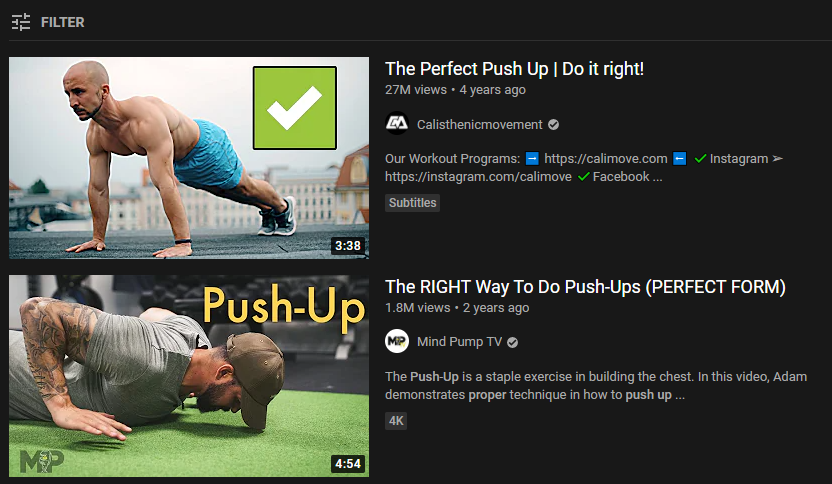 The tags section also plays an important role in YouTube SEO. This is the section where you should use the Latent Semantic Indexing keywords or LSI keywords.
In general, LSI keywords are those related to the main keyword in focus.
However, you need not overdo it. Quality matters more than quantity. Choose the right tools, find the right keywords, and place them accordingly.
The video description is where you should put plenty of content. This section helps Google and YouTube understand the context of your video.
Therefore, it is important to make it informative.
You should thoroughly explain your video in the description because that is what this section is about.
Backlinko suggests the following three tips to write your video description.
Include your keyword in the first 25 words
Make the description at least 250 words
Include your keyword 2-4 times
You can use the description section to direct the viewers to wherever you want. You can put a link to your website(just like we did here), you can add the link to some other video from your channel, and even add call-to-action buttons.
Optimize about page
Not many people go and see the "About" section of a particular YouTube channel. However, you can add relevant content to it and completely explain what your channel is all about.
Do not forget to add your contact details in the about section as this can help the brands reach out to you for collaborations.
Here also, you can direct the viewer wherever you want to. Whether your social media profiles or your website, you can direct the viewer simply by adding a link in your about section. Completely explain the purpose of your YouTube channel.
You can easily edit the about section of your channel.
Just open your channel's about section and click on customize channel. Then click on the basic information section and write your channel description.
From the branding section, you can add a cool watermark that appears at the bottom right corner of your video.
Other than this, you should also add the channel trailer that appears on the top of your homepage. This video should be a brief description of your channel. The viewer should understand the niche of your channel through this video.
This is how your channel trailer would look on the homepage:
Add closed captions
Closed captions are crawlable by Google and other search engines. Adding closed captions to your videos can have a great impact on SEO.
YouTube automatically generates captions but they are not perfect. I prefer you to edit it on your own and then upload your videos.
Here's how you can add closed captions to your YouTube videos.
Closed captions can be even more beneficial if you write your script accordingly. You focus more on your keywords while you speak, more keywords will be added to the closed captions. However, you need to do this systematically and not overdo it.
The main purpose of adding closed captions is to make everything easy for the deaf audience. However, adding closed captions could also work for YouTube SEO.
Watch this video:
Jessica is a deaf YouTuber and she has beautifully explained how closed captions can be used to improve your subscribers count.
<iframe title="YouTube video player" src="https://www.youtube.com/embed/ax411Q_of0A" width="560" height="315" frameborder="0" allowfullscreen="allowfullscreen"></iframe>
Not only English, but YouTube can auto-generate captions of multiple languages.
Make engaging thumbnails
Thumbnail plays an important role when it comes to views of a particular video. A thumbnail should excite the viewer to click on it. Also, thumbnails give a professional look to your videos.
YouTube auto-generated video thumbnails don't do a great job. They do not make the viewer curious about the video. But a specially designed thumbnail can surely do that.
A good thumbnail makes the viewer curious about the video. It does not take much time to design a thumbnail for a video.
You can use several tools to make an amazing design. Canvais one of the best examples of it. It can help you make thumbnails on your own. You can find thousands of easily editable designs on Canva.
Also, keep a consistent style of all the thumbnails you use for different videos.
Many people do not know the right size of a thumbnail. Here are some instructions from
Have a resolution of 1280x720 (with a minimum width of 640 pixels).
Be uploaded in image formats such as JPG or PNG.
Remain under the 2MB limit.
Try to use a 16:9 aspect ratio as it's the most used in YouTube players and previews.
Add call-to-action buttons
Adding call-to-action buttons on different sections of your video can help you increase your subscribers.
Always use the end-screens to divert the audience to some other video of yours.
<iframe title="YouTube video player" src="https://www.youtube.com/embed/Tgp0utWXyjY" width="560" height="315" frameborder="0" allowfullscreen="allowfullscreen"></iframe>
This video can help you add end-screens to your videos. It will help you direct your audience to your channel's homepage.
Other than this, you can also add "i" buttons on the video and suggest viewers watch more of your videos.
The descriptions and pinned comments can also be used to add call-to-action buttons.
Focus on video length
There is no specification of what video length is good and what is not. However, it completely depends upon the type and the niche of your video.
Some YouTube videos are 14-15 minutes long while some are as short as 2 minutes. But I do not prefer to post a two-minute-long video.
A tutorial video, a product review may go up to 15-16 minutes. But a cinematic travel video may not be this long. Therefore, the length of the video completely depends upon its type.
However, this directly affects the watch-time of your YouTube channel which is a great growth factor.
The more the watch time, the more your channel grows. But it does not mean that you should start making longer videos.
All you have to make engaging videos, that generate curiosity among the viewers consistently so that they watch them till the end.
You can always check the watch-time report in the analytics section of the YouTube Studio. This report helps you understand how much time is being spent on your channel. You can even see the reports for each video. This report will surely help you keep a track of user engagement.
Study your channel analytics
Youtube analytics is a great tool that lets you understand everything about your Youtube channel's SEO. YouTube analytics provide multiple reports to the creators.
However, it is important to understand which report tells what and how to utilise it.
Your questions like "How do audience find my channel?", "Arey they getting hooked to my videos?", "Which videos are performing great?" can be answered if you analyze your YouTube analytics thoroughly.
Check out this lesson from YouTube Creator Academy to learn more about YouTube analytics.
Be consistent
Whenever it comes to YouTube, consistency is the key to success. It is very important to post informative content consistently. The chances of your first video reaching 1 million views are less. But your 100th video is more likely to reach 1 million views.
You will never grow on YouTube if you won't be consistent with your videos.
<iframe title="YouTube video player" src="https://www.youtube.com/embed/-lDQc1mGAvY" width="560" height="315" frameborder="0" allowfullscreen="allowfullscreen"></iframe>
Watch this video by Casey Neistat.
He says that he started daily vlogging (in the year 2015) and in five months, he gained 500,000 subscribers. He continued with the daily vlogs and gained 500,000 more subscribers at the end of the year.
However, today, he has 12.3 million subscribers on YouTube.
Socialize your videos
Do not only rely on YouTube to make your posts appear in suggestions. One of the things before uploading the video on YouTube is to create hype on other social media platforms.
Share snippets on Instagram stories, Facebook, Twitter and other platforms you use.
The best platform to share your YouTube videos is Facebook.
The best thing about Facebook is that you can directly share the link to other websites along with the thumbnails. Therefore, you can directly shift the traffic from your Facebook page to your YouTube channel.
Cross-posting on different platforms is a great strategy to improve engagements and increase views.
If you make educational videos, you should share your videos on Quora.
Also, embedding your videos in blog posts can help you a lot. This is one of the best ways to increase your user engagement and making your videos visible to more and more people.
Track your competitor's performance
As mentioned above, YouTube has over 2 billion active users worldwide. With this stat, you can imagine the total number of videos uploaded and the number of content creators on YouTube.
No matter how unique your niche is, chances are still very high that you have thousands of competitors. Therefore, it becomes important for you to keep a track of your competitors' performances also.
Sometimes, it can be helpful for you. You get to know the ongoing trends and new ideas from your competitors' channels. Thoroughly analyze their videos and make the content that they have not published. Someone's weakness can become your strength. However, it all depends upon your analytical skills.
Conclusion
"YouTube isn't Hollywood. I'm not Stanley Kubrick. You can't succeed here if you're uploading once a month. If you want to succeed here, you have to show up here every single day."----- Casey Neistat.